Last month, I and my partner had the opportunity to do habitat restoration for the city of Boise by planting seedlings in Fort Boise Military Reserve Park and along the Boise River Side Channel.
Habitat Restoration in Military Reserve | Idaho Trails Association
In early March, I and a group of volunteers from the Idaho Trails Association planted over 150 sagebrush seedlings in the disturbed grasslands of Military Reserve Park. The seedlings were grown from seed previously collected in the area.
I learned from Martha Brabec, a restoration specialist for the city of Boise, that seedlings grow better if their seeds are collected from the area where they will be replanted. It has to do with the genetics of the seeds in response to the stresses of a particular environment.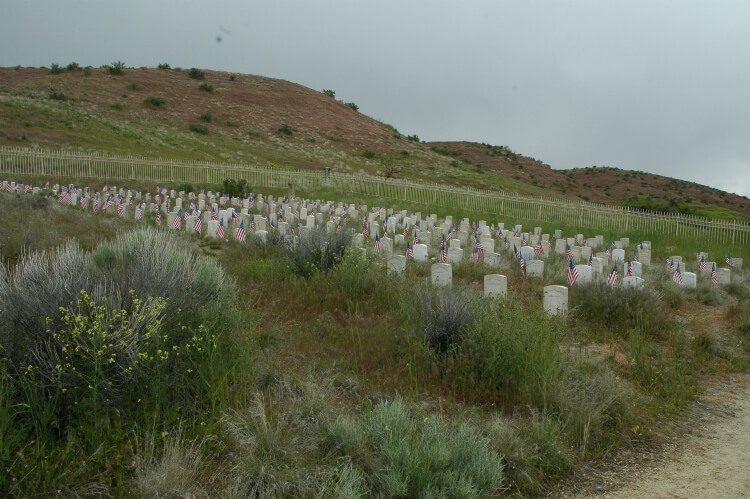 We planted big sagebrush or Great Basin sagebrush seedlings (artemisia tridentata) just past the Fort Boise Military Reserve Cemetery to near the Freestone Trailhead on Mountain Cove road.
We used heavy metal pry bars to gouge holes in the soil. The seedlings were placed in holes and the soil patted in around them. (If there is air around them, they will frost heave out of the soil, damaging the roots.) Each seedling was covered in a protective net and a layer of mulch to keep out weeds and animals.
My team was able to plant about 50 seedlings. I learned that fifty percent of seedlings will not make it. However, that's still plenty of sagebrush seedlings that will.
The restoration is part of a city-wide project to replant sagebrush seedlings in degraded habitats across Boise. To learn more, check out this recent episode of Idaho Matters from Boise State Public Radio.
If you would like to help, the Idaho Trails Association will be collecting sagebrush seeds to use for the project in October and November.
Habitat Restoration along Boise River Side Channel | Diane Moore Nature Center
I and my partner, along with a group of volunteers, came together in mid-March to plant dozens of native tree and shrub seedlings along the newly-created Boise River Side Channel in the Intermountain Bird Observatory's Diane Moore Nature Center.
The side channel was dug to improve riparian habitat along the river; it will eventually provide food and groundcover for native birds and wildlife.
The channel was planted with native riparian shrubs and trees. The planting took place on uneven ground, which contained mostly sand and rocky soil.
The holes we dug were deeper, and planting each seedling required watering in addition to mulching and netting. A few species we planted were hawthorn, willow, and bitter cherry.
Beavers had been in the channel, chewing down so many trees that any left standing now have a protective wire fence encasing their trunks. Even so, the damage was extensive.
The Diane Moore Nature Center hosts songbird banding during the summer. Below is a photo of me holding a hummingbird that was banded there.
To learn more about the Intermountain Bird Observatory, check out their webpage hosted through Boise State University.